Formulated with Palma and Coconut vegetable oils, they detoxify and leave the skin soft, moisturized and slightly perfumed. They contain high consistency of floral waters and essential oils steam distilled in Casalvento from organic crops.
Each soap has specific properties due to the active ingredients contained in the officinal plants we chose to formulate. They are 100% vegetables and non-dyed obtained with the classic cold mixture method. They produce a dense, velvety foam that makes them even pleasing to the shower. While aged, they remain soft thanks to the naturalness of their ingredients. They have been formulated like all our cosmetics avoiding the use of tested animal products. Weight: 100g at the origin.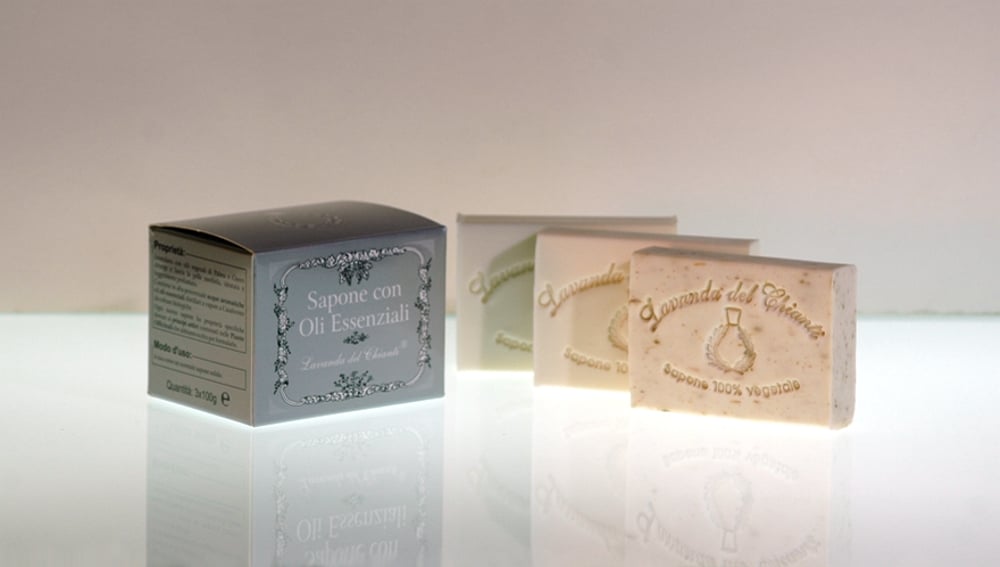 Chianti Lavender Solid Soap
Its exfoliating properties are due to the dried lavender flowers and ground apricot kernels. Lavandula Hybrida essential oil gives a defined scent with a sanitizing and relaxing effect. Lavender hydrolat is another important ingredient of this soap because of its decongestant properties.
Damask Rose Solid Soap
This soap has the fragrance and softness of an ancient rose we cultivated and distilled with passion. Its soft foam gives the skin elasticity and freshness. The Damask Rose hydrolat and essential oil nourish dry skin and fight the signs of aging.
Helicrhysum Solid Soap
This soap combines the intense warth of a summer afternoon with the scent of Mediterranean flowers. The recognized medicinal properties of the Helichrysum Italicum essential oil and its hydrolat make this soap necessary for all ages skin care. Neroli's essential oil (bitter orange blossoms) gives it a delightful scent.