Aromatic Waters (or hydrolats) for a long time have been considered a by-product of distillation. In the Middle Ages, distillation of officinal plants provided water with a high content of water-soluble active substances widely used in medicine.
These Floral Waters have the same properties and indications of the respective essential oils, as well as holding 1-2% of them, also retain the water-soluble part of the plant. A versatile addition to any beauty routine for personal hygiene (washing babies, toning facial skin, oral rinse, deodorizing, rubbing the scalp, …) and for internal use (digestive, shooting, suppurative, balmy, …), as a fragrance for massage.
In addition to essential oils, aromatherapy encourages the use of other complementary natural ingredients including Hydrolats. Pure organic hydrolats distilled from freshly plucked flowers, hydrate and refresh the soul with their subtle aromas. 250ml bottle with natural vaporizer spray.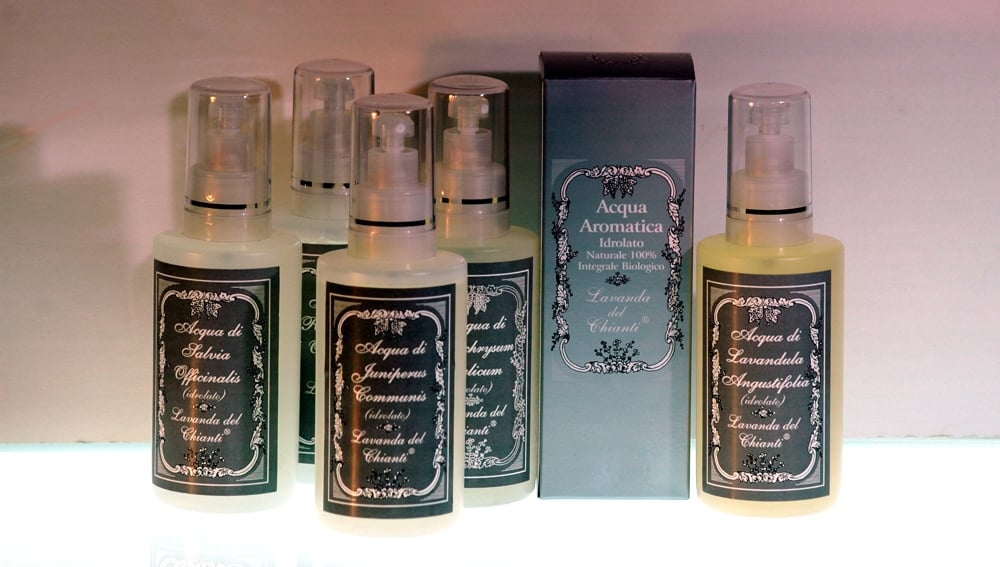 Organic Lavandula Angustifolia Hydrolat
Escape into the flavorful and aromatic world of senual lavender. The fine organic lavender hydrolat, refreshes, cleanses and sosftens the skin. It also soothes insects bites. Suitable for intimate hygiene. Astringent and bactericidal properties. Useful in burns, it reduces itching in dermatitis. Fresh and happy aroma with erbaceous olfactory note. Lavender hydrolat can be used for daily cleansing and toning, soothes and relieves sunburn, irritations and heals insect bites; antiseptic wash for cleansing minor wounds. …the scent of lavender, dancing in the air on a warm spring day …
Organic Helichrysum Italicum Hydrolat
Obtained from the distillation of the flowers of Helichrysum (also called Immortelle or Everlasting)  in June has in itself all the power of the sun and our Tuscan land. For its medicinal properties the plant is also called the "Giant of the Mediterranean" and studied for its anti-inflammatory power. Useful in psoriasis and mycoses for its anti-inflammatory and anti-istaminic activity. It has been recognized as an immunomodulating activity. The olfactory profile is spicy, woody and reminiscent of orange blossom.
   Organic    Damask    Rose     Hydrolat
An exquisitely beautiful Damask Rose hydrolat. This flowery and fresh hydrolat rebalances feelings, fights stress and nervous tension. Nourishes and cleanses the skin giving a delicate scent and a velvety after effect. Rose's essence is hardly separable from its hydrolate. This is integral, natural sooting and with an irresistibly floral aroma. A luxurious addition to any skin care that will take you to the Tuscan countryside. Our Damask Rose hydrolat is full, lush and exquisite, a perfect adaption of the scent of the living flower, carried by a gentle breeze on a warm summer's evening.
   Organic   Salvia   Officinalis      Hydrolat
It smells pleasant and herbaceous/woody like the fresh sage plant. Its aroma is energizing and uplifting. Gentle and refreshing, this hydrolat helps relax and tones skin at the same time. It has anti inflammatory, anti rheumatic, anti spasmodic and anti hypertensive properties. This aromatic water is a celebration of not just sage, but the rugged and untamed nature of the Tuscan countryside.
Organic Juniperus Communis Hydrolat
Juniper hydrolat can make you beautiful because it's good for reducing cellulite. It also stimulates skin circulation. You will be pleasantly surprised with its enchanting aroma, fresh dynamic aroma with balsamic and undergrowth notes. Obtained from the distillation of selected juniper berries without the needle leaves of the plant is the best product you can ask. In Casalvento we have thousands of plants and the oldest are the best.
Organic Rosmarinus Officinalis Hydrolat
Known for its stimulating properties, liver cleansers (coleretic effect) and rubeforms are useful in the treatment of anti-cellulite and anti-dandruff. Fresh olfactory note with obvious herbaceous component. A special Italian plant symbol of the Mediterranean forest, the name comes from the Latin words ros (dew) and maris (of the sea). The sprigs harvested during flowering give the best product for our distillery and it flowers twice a year.